REALTYPACT FOR SALE BY OWNER TOOLS
RealtyPact offers Sellers the following FREE Tools to help you sell your home:

Offer to Purchase Real Estate Form with Counter-Offer option [PDF]
Seller-Financing Fact Sheet to give to potential Buyers [PDF]
Payment and Amortization Financial Calculator
Online Real Estate Listing Options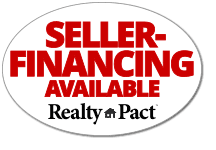 Need 'Seller-Financing Available' stickers for your For Sale yard sign? Have a question? Email us!